So you want to buy a house in 2022? Let's look at some of the challenges you may face and then a strategy to overcome those challenges!
Challenges home buyers will face in 2022
1. Not enough choices
Most people have a list of things they want their next home to have. Maybe you want a home that has 4 bedrooms, 2 bathrooms and you want a split floor plan with lots of light and upgraded finishes. And you want the kitchen to be in the back of the house with a window that looks out into the backyard. And you want there to be a wood burning fireplace in the living room. Oh, and a pool in the backyard. So you pull up JacobiTeam.com and search for this house in Chico, CA and you see that there are currently zero for sale with those specifications. If this were 2014 you might see three or four like that
in your price range
at any given time, and more just like it as the price range goes up. There just aren't very many homes for sale and it's been like this now for three years. In fact, active listings have been declining since 2012/2013. And new home builds are way below what they should be to keep up with demand. Click
here
to see how many homes are for sale right now in Chico, CA.
2. Lots of competition
Let's say, by some miracle, the exact house you are looking for actually does come on the market for sale! Yay! So you schedule a showing with your Realtor and decide you want to write an offer. You know the market is hot right now, so you offer a little over asking. You are getting a conventional loan and not asking a lot from the sellers. Then your Realtor calls you the next day and says there ended up being 7 offers on the house and your offer did not get chosen because someone came in paying all cash, short escrow, no contingencies. This has been the reality for many buyers trying to buy a home ever since COVID began.
3. High prices and rising interest rates
CA is at an all time high with median home price, and that includes Butte County where my husband and I practice real estate. Buyers have been able, for the most part, to still buy homes because interest rates have been insanely low over the last few years. But they are rising. All indications are that they will go up several times through this year. That means that not only will you be paying the highest ever price for a home, but it will cost you more to buy that home in the long run that it would have last year, when the rates were lower.
So why should I buy a house at all?
1. Renting is throwing your money away
When you rent, you are paying someone else's mortgage, and furthering their wealth. You CAN still buy and I will tell you how in a minute.
2. Interest rates are still at historic lows
Even though interest rates are set to rise, they are still at historic lows. Over the next few years they may go up even more, so this year's rates could be considered a good deal.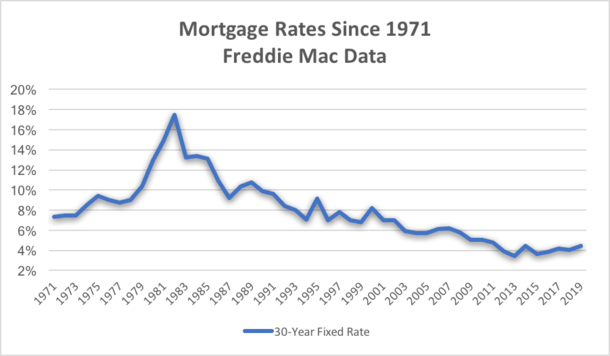 3. Real estate is still one of the best ways to grow wealth
Some people say real estate cycles every 10 years. That is true unless there is a recession or bubble burst. There was the recession in 1990. Home prices had peaked in 1989 and then bottomed out in 1997. Then there was the bubble burst of 2008. Housing prices had peaked in 2006 and bottomed out in 2009. That is seventeen years between peaks (peaked in '89 and then down and back up to peak in '06). But that doesn't mean that if you paid $500,000 for a house in 2006 it took you until 2021 to be able to sell it without being underwater. Accounting for the amount you put as a down payment, and then the years you put in making payments on the loan, your equity probably caught up to you in about 2016. So for you, buying at peak pricing, means in about ten years you could sell it and be in the positive or break even. The more cash you put down, the safer you may feel buying in a peak. Just know that overall, the property will gain in equity in the
long run
because housing values continue to go above the previous peak and hold over the long term.
How to buy a house in 2022
As promised, here is what we are suggesting for you to get the best experience and meet your goals of buying a home this year:
1. Contact a LOCAL mortgage lender and get pre-qualified
Concerns that a seller has when accepting an offer from a buyer who has to get a loan inlcude, can their lender close the loan? Is this buyer actually able to borrow? Realtors who have been in the business long enough to do a dozen or more escrows begin to see which lenders do a good pre-approving their buyers, communicate quickly, and follow through with what they say their company will do. So the seller's agent is going to advising their sellers to be looking for buyers with lenders that the agent knows can accomplish these things. That's why working with a local lender with a proven track record can cause your offer to win over a buyer who submitted an offer but is using an out-of-town lender.
2. Have that lender pre-approve you
To get pre-approved your credit will be pulled, you will provide bank statements, W2, etc. Whatever the lender asks. The lender will be able to ascertain whether or not you will actually qualify for this loan. It's more than just a conversation- it's saying that you, the borrower, are 99.999% going to be approved for this loan. This will put you above other buyers making offers who are merely at the pre-qualification stage. All you have to do to get pre-qualified is to talk to the lender on the phone. No paperwork. No credit pulled. Just a conversation.
3. Determine your MUST HAVES and negotiables
Do you NEED a home that has brand new beautiful luxury vinyl plank flooring? Or, can you buy a home that has some other kind of flooring and then have the flooring you want put in before you move in? Being
flexible
on your needs and wants list will open up more choices of homes for you.
4. Find a Realtor
Find someone who works real estate full-time and gets back to you quickly. In this market you will need to act quickly when a home comes on the market and you want a realtor who is paying attention to you.
5. Focus on your price range or lower
Look at homes that are new on the market that are at or below the top amount you want to pay. If the house has been on the market three weeks or longer then you can look at homes that are a little higher (1%-3%) than you want to pay and may be able to get your price accepted if you make an offer. They are probably about to do a price adjustment anyway.
6. Highest and best
When you write an offer, make it the highest you are willing to pay right out the gate. Don't mess around or you will most likely get beat out. This market is like a silent auction. Make your bid and hope it's the best.
7. Other terms can also help you get your offer accepted:
*See how quickly your lender can close an escrow- if they can do it in 21 days then write your escrow for 21 days.
*Explore the private money, or bridge loan, option rather than getting a standard loan. This makes your offer as close to an all cash offer as possible. You need to have equity in your
current home as collateral to be able to have this as an option usually. You would buy your house with the private money loan then after closing refinance into a standard mortgage. Your
realtor will most likely have some private money lenders they can recommend.
*Offer to pay all the closing costs. Closing costs are typically 1% of the purchase price.
*Don't ask for the seller to pay for any inspections. If you want inspections, pay for them yourself. In the Northern CA area you can get a whole house inspection for about $400, a pest
inspection for about $150, an HVAC inspection for about $100, a roof inspection for about $100, a chimney inspection for about $250 (including a cleaning), a pool inspection for about
$200, and a sewer line camera scope inspection for about $350. Other inspections include septic inspections (which if pumping or digging is needed can run $500-$1000), well inspections
($300-$700 depending on what you get inspected), solar panel inspections (price varies).
*Consider shortening your contingencies or releasing them altogether. There are ramifications to this, so make sure to discuss this in depth with your Realtor.
This article was written by Kim Jacobi, of the Jacobi Team of Century 21 Select Real Estate, Inc in Chico, CA. If you want to search for homes for sale in Chico, click here.